John Hyde Jr. charged for the murder of Floyd Samuels in Caye Caulker
Tuesday, June 6th, 2023
Police have formally arrested and charged 26-year-old John Elwin Hyde Jr. with Murder following the shooting death of Caye Caulker resident, Floyd Samuels, 45. On the night of Saturday, June 3rd, Samuels was shot dead at his residence on Avenida Mangle. According to a police report, two male persons reportedly went to his home to purchase tobacco leaves ('fonto') from him. Afterward, neighbors reported that they heard gunshots in the area.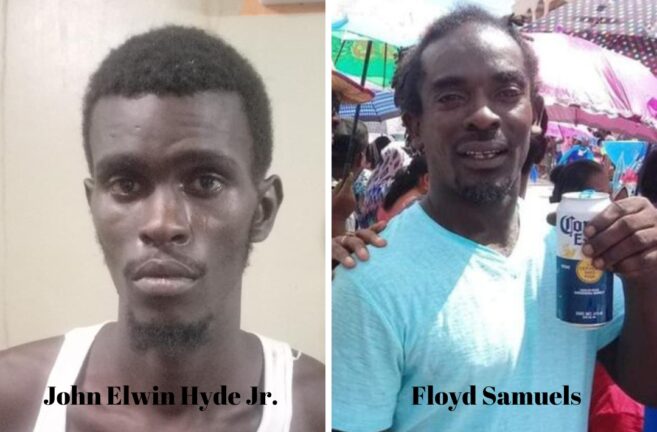 Police investigation led to the apprehension of three suspects that same evening. Two days after, on Monday, June 5th, Caye Caulker Police concluded that Hyde Jr. was liable for the crime and charged him with Murder. Hyde Jr. is expected to be arraigned at the Magistrate Court in Belize City.
During an afternoon police press briefing on Monday, June 5th, it was stated that officers in Caye Caulker were alerted about the incident after 7:30PM. According to the official report, as many as seven gunshots were heard in the area. Samuels was hit multiple times to his body, while some of the bullets grazed his common-law wife. She called for help and tried to assist Samuels, who was motionless, lying face down on a couch. Samuels did not survive the attack, and a local doctor pronounced him dead at 8:07PM. The body was then transported to Belize City's Karl Heusner Memorial Hospital for a post-mortem examination.
The assailants reportedly left through a narrow pathway next to the house. Police canvassed the area and checked surveillance footage. Their investigation led to the detention of three individuals. Police have not identified a motive for the murder, but they believe Floyd Samuels was targeted. The island resident moved to Caye Caulker many years ago from Belize City, and according to those close to him, Samuels was not known as a troublemaker, and worked hard to maintain his home.
Chairlady Seleny Villanueva-Pott said although the incident disrupted the peace on the island, it is very puzzling as Samuels was known to be a family man. Pott and those who knew Samuels are still trying to
understand why he was attacked. They hope the police can solve this murder and bring justice to his family.
Caye Caulker island is affectionately known as La Isla Cariñosa, for its reputation as a quaint and peaceful community, where major crimes rarely occur. The last reported major crime was in June 2019, when boat captain Norman Gill was reportedly involved in a stabbing incident. Gill remained at large for a couple of months until he was arrested and charged with Dangerous Harm and the Use of Deadly means of Harm.
The Caye Caulker police encourage island residents to be vigilant of their surroundings and to report any suspicious persons or activities. For faster access, the Caye Caulker Police Station can be reached at 206-0091.
Follow The San Pedro Sun News on Twitter, become a fan on Facebook. Stay updated via RSS