San Pedro RC boys win Bishop's Cup football championship
Tuesday, May 23rd, 2023
The San Pedro Roman Catholic Primary School boys of Ambergris Caye won Bishop's Cup football championship organized by the National Catholic Primary Schools Principals Association at the Isidoro Beaton Stadium in Belmopan on Saturday, May 20.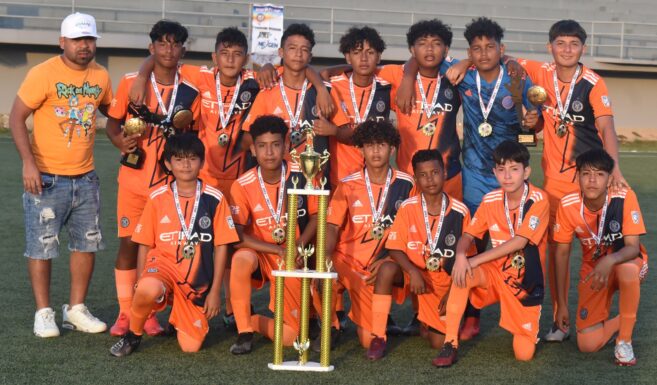 In the championship final, MVP Daniel Caliz's brace: 11' and 31' – a penalty, led the Isla Bonita boys to dominate the Stann Creek district champions, the Sacred Heart RC School boys from Dangriga: 2-0.
In Game 1, the San Pedro Rc boys eliminated the Corozal district champions, the Our Lady of Guadalupe RC boys: 2-0, with a goal by Jeiner Perez 28', after Sddjurick Clavel 5' sent the ball into the Corozal net. In Game 4 of the playoffs, MVP Daniel Caliz's brace 33' and 40' and Jeiner Perez 32' assured the San Pedro boys' place in the final by a 3-0 win, to relegate the Cayo boys to the 3rd place match.
In the consolation match for 3rd place, Tyler Pop's hat trick: 10', 32' and 37' sealed the Indian Creek RC boys' 3-0 win over the Cayo district champions, the Sacred Heart RC boys of San Ignacio.
In Game 2, the Cayo boys had advanced to the playoffs, by eliminating the Orange Walk district champions – the San Pablo RC boys: 2-1, with goals by Jared Garcia 3' and Danny Pinelo 7', after Edrei Garcia 5' had equalized 1-1 for San Pablo.
In Game 3, the Indian Creek RC boys advanced to the playoffs by a 4-3 win over the Dangriga boys in a penalty shootout, after 2-2 draw in regulation. Stuart Ishim 10' converted a penalty, and Danson Chub 16' gave the Toledo boys a 2-0 lead at the half. Zevaughn Martinez 30' and Zamar Diego 31' equalized 2-2 for Sacred Heart RC after the break. In penalties, Stuart Teul, Tyler Pop, Danson Chub and Alexander Pop scored for Indian Creek, while only Jaren Fernendez, Zevaughn Martinez and Denver Martinez scored for Dangriga.
In Game 5 of the playoffs, it was sweet revenge for the Dangriga boys as they won the rematch to secure their berth in the finals, as they relegated the Indian Creek boys to the 3rd place match.
At the awards ceremony after the Bishop's Cup finals, Catholic Schools general manager Celia Usher joined FFB president Sergio Chuc in presenting team trophies and individual medals to the champions, 2nd and 3rd place winners. The champions San Pedro RC won a $1,000 cash prize, while the Dangriga boys won the 2nd prize: $750, and the Indian Creek boys won the 3rd prize: $500.
Individual awards
Most Valuable Player – Daniel Caliz – San Pedro RC

Most Goals – Daniel Caliz – San Pedro RC: 4 goals.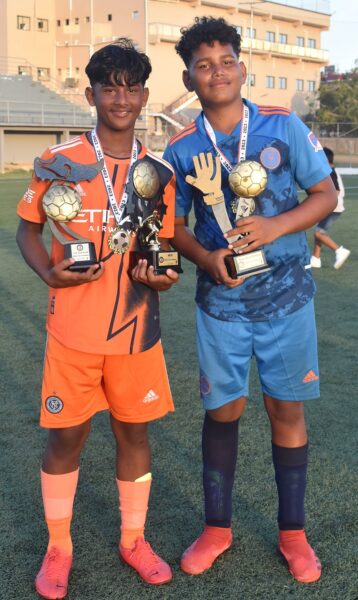 Best Goalkeeper – Anthony Jones – San Pedro RC
Follow The San Pedro Sun News on Twitter, become a fan on Facebook. Stay updated via RSS