The Legends lead in local 11-A-Side football tournament
Wednesday, April 10th, 2013
The Ambergris Stadium was packed with cheering fans this past Saturday, April 6th and Sunday, April 7th as the 11-A-Side Football Tournament continued. Squaring off on Saturday was the team of United FC vs. the Jokers and Juventus vs. DFC United. The first game started at 6PM, and at the end of regulation, United FC spanked the Jokers 6-1! The second game started around 8PM, and it was a 3-3 draw between Juventus and DFC United.

On Sunday, three games were played: Veterans vs. Lebanese Boys, Los Catrachos vs.Caye Caulker team and Dennis Construction vs. The Legends. With the first game starting at 1PM, the Lebanese faced off against the Veterans, winning the game 1-0. Los Catrachos and Caye Caulker team settled for a 2-2 tie in the second game that took place at 3PM. The last game for the day started at 5PM and the Legends delivered a blow-out 5-0 game against Dennis Construction team.
Results from this week's games showThe Legends in first place with 21 points, while Caye Caulker and DFC United are in second place with 13 points and Los Catrachos and FC United follow with 10 points. Top scorers for the entire tournament so farare Jesse Guerrero from Los Catrachos and Kenny Witzil from The Legends with nine goals.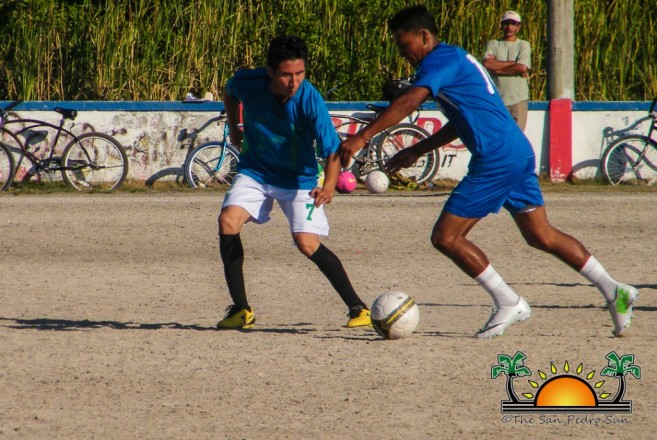 Organizers would like to extend a special thanks to Councilor Gabriel Nuñez, whose portfolio includes Sports, Hilberto Gomez, Head of Competition Committee, the San Pedro Police, Elvis Castillo and Javier Calderon. Next week's games are scheduled for April 13th at 6PM sharp and on April 14th 1PM sharp at the Ambergris Stadium. Don't miss out!
Photo Gallery
Follow The San Pedro Sun News on Twitter, become a fan on Facebook. Stay updated via RSS