Triple R donates ambulance to Ambergris Caye
Saturday, March 21st, 2020
As Ambergris Caye prepares for any possible case of the pandemic COVID-19 (Coronavirus), an ambulance has been secured on the island for the sole purpose of transporting persons suspected to be infected with the deadly disease. The ambulance is a donation from the Rickilee Response and Rescue (Triple R) Emergency Response Team. The vehicle, a Mercedez Benz, has sealed compartments separating the driver from the medical personnel, minimizing any potential contamination.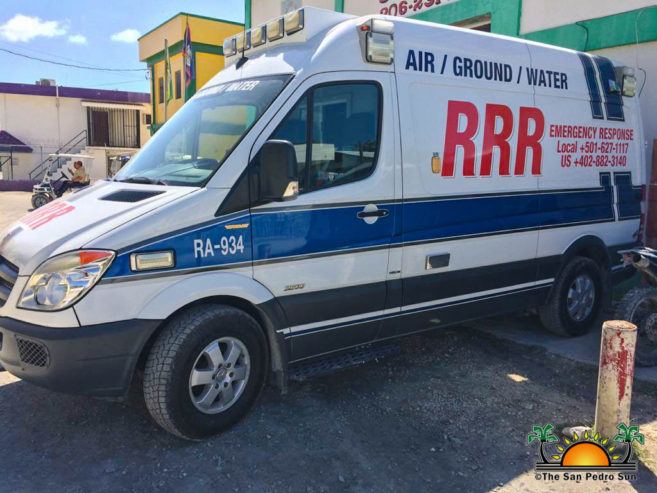 Triple R's Supervisor and head of the organization's research and rescue team, Philip 'Billy' Leslie, indicated that the vehicle is completely sealed, posing no danger to the driver or anyone near the ambulance. It is properly equipped and offers enough space for medical personnel to treat patients. He added that the ambulance has already been used to transport persons suspected to be infected with COVID-19. He referred to the crew of the San Pedro Belize Express water taxi traveling from Chetumal, Mexico to San Pedro Town that was denied entry on Saturday, March 14th. The vessel was denied permission to dock at the International Boat Terminal on the island, because they were transporting persons that were coming from countries where there are ongoing transmissions of the virus. "We transported these persons in the ambulance to an area on the island where they are currently on quarantine," said Billy. He added, that for other emergencies, they count with a second vehicle to transport patients.
According to Billy, a similar ambulance was also donated by RRR to the Belize Emergency Response Team in the Belize City and another one to the Placencia community in southern Belize. This is yet another contribution Triple R gives to Belize. In the past weeks, the emergency response team has been busy assisting people troubled at sea and thanks to their efforts lives were saved early in March.
Established in June 2017, Triple R, a 501-3(c) charitable organization based in Houston, Texas U.S.A. and operational on Ambergris Caye, continues to be instrumental on the island as they respond to emergencies across Ambergris Caye either on land or water. The team's response is in memory of Rickilee Mercer, an American National who was found dead on the leeward coast of Ambergris Caye on March 1, 2017, after she was reported missing on February 28, 2017. Mercer had gone jet skiing around the area of Secret Beach.
For any emergencies the general public is asked to call Triple R's hotline 627-1117.
Follow The San Pedro Sun News on Twitter, become a fan on Facebook. Stay updated via RSS