Cries for compassion rise up after tragic death of abused puppy
Sunday, January 29th, 2017
Despite heroic efforts of Darwin Animals Doctor Jochem Lastdrager, Saga VHA Ingrid Lima and Dr. Heather McGowan, puppy dies after months of unreported torture
Press Release – Saga Humane Society – January 23, 2017 – Local residents of Ambergris Caye and social media supporters from as far as Malta, have voiced their sadness, and outrage after learning of the senseless and preventable death of a young dog named Trooper, on Ambergris Caye last week. What was supposed to be a weeklong volunteer veterinary and education adventure for Dr. Heather McGowan and her team of five from Glanbrook Animal Services in Mount Hope Ontario, became a journey of compassion that ended in heartbreak.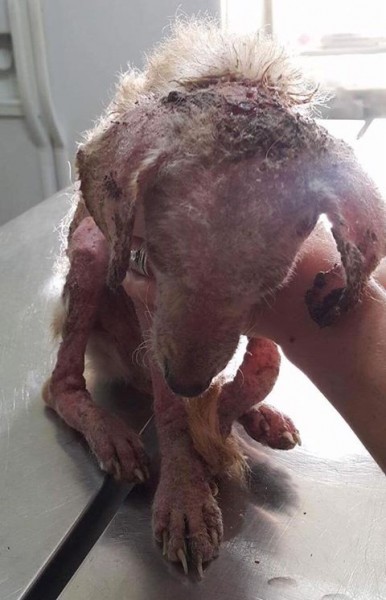 Trooper was abandoned overnight on January 19th on the hard cold cement inside one of the outdoor pens at Saga Humane Society. When the travel team from Mount Hope arrived for their fifth and final day of volunteer work, the grim discovery was made. Trooper had suffered for months with a Demodectic Mange condition that could have been prevented. According to Dr. T.J. Dunn, Jr. "Many veterinarians believe that all dogs have small numbers of demodex mites residing in the skin and that having a few mites is normal and common. It is when immune related, or nutritional or environmental stresses impact the dog that visible skin lesions from mite infestations become noticeable." Abuse by human hands was the killer in Troopers case. The cause was improper diet, improper care and shelter and an owner who watched as the tiny dog's body became covered in painful open sores. In the end the small dog had suffered too much neglect. His body could no longer go on. Trooper died on January 21, 2017.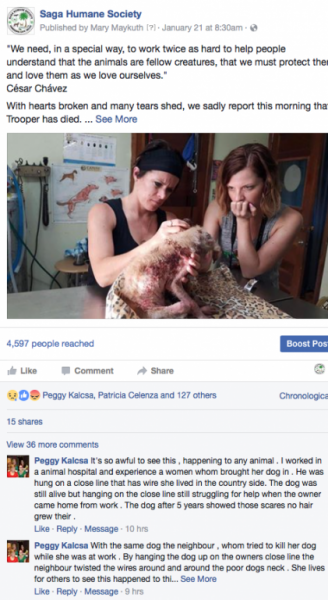 Trooper did not die without finally knowing loving hands and the team from Mount Hope did accomplish their mission to bring kindness and compassion to Ambergris Caye. When the team arrived on a sunny Saturday, their bags were packed full of much needed supplies and a big check from their clients in Canada to be used to support the shelter animals housed at Fort Dog. They also carried with them videos and coloring books and supplies for the children of ACES and Holy Cross who they visited on their first Monday on the Island.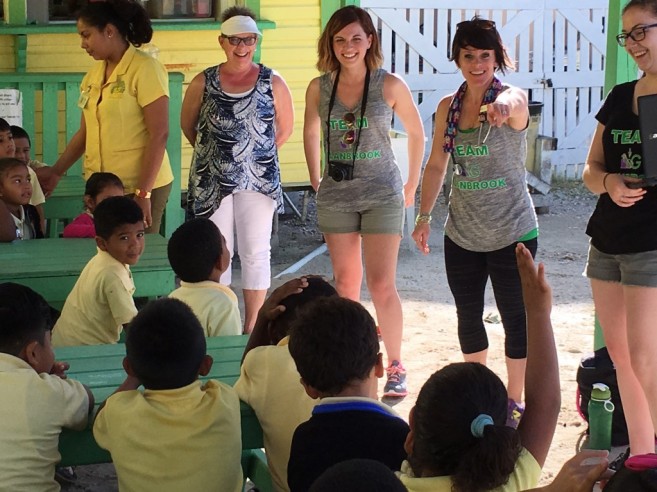 The team visited the two schools, sharing a message of animal care, wellness and kindness. Students marveled at the team's videos and pictures from Canada, especially the snow. Before leaving ACES, Dr. Heather and the children even played a game of tag the vet. During their five clinic and education days, the team was able to see hundreds of island children and spay and neuter nearly 30 animals and provided wellness checks to more. Dr. Heather McGowan and her team are scheduled to return to Ambergris Caye in November of 2017.

ABOUT SAGA
Saga Humane Society was founded in 1999 as the first and remains the only non-profit animal shelter and clinic in Ambergris Caye Belize, whose mission is to promote kindness and prevent cruelty to all animals. Saga Humane Society is a 501 © 3 non-profit registered in Pennsylvania and an NGO in Belize. Saga operates the only animal shelter on Ambergris Caye, Fort Dog, and cares for those animals through the generous donations of saga supporters. For more information, to book a Humane Education presentation or to make a donation, please connect with Saga at http://www.sagahumanesociety.org, [email protected] Or contact Saga by phone at 226-3266. The clinic and shelter are open to the public Tuesday through Friday 9 am to 5 pm and on Saturdays 9 am to noon. Emergency care is available 24 hours a day seven days a week at 610-0932.
Follow The San Pedro Sun News on Twitter, become a fan on Facebook. Stay updated via RSS