Saga assists in the rescue of injured ocelot
Wednesday, February 22nd, 2017
Saga Humane Society was recently made aware that an ocelot had been seen wearing an apparent collar and dragging its hind legs north of San Pedro Town. Saga was unsuccessful in capturing the wounded animal, as the wild cat escaped to the nearest mangroves whenever it was approached. However, on Monday, February 20th, it was captured by Norman Gutierrez and Gaspar Alcoser, and Justin Romsa transported it to Saga's clinic for veterinary care.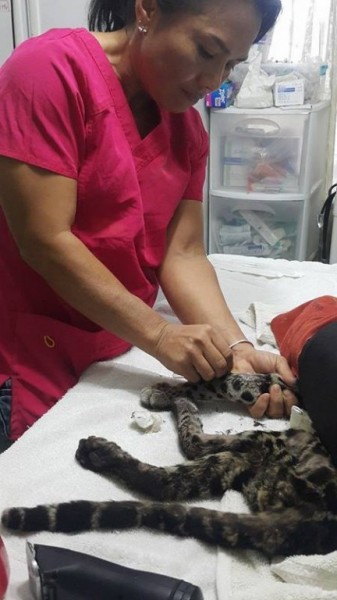 Saga's Veterinarian Assistant Ingrid Lima gave the ocelot a thorough exam before it was stabilized. Dr. Isabelle Paquet-Durand, who is the CEO and founder of the Belize Wildlife & Referral Clinic, was then contacted and arrangements were made with Tropic Air to fly the wild cat to the mainland.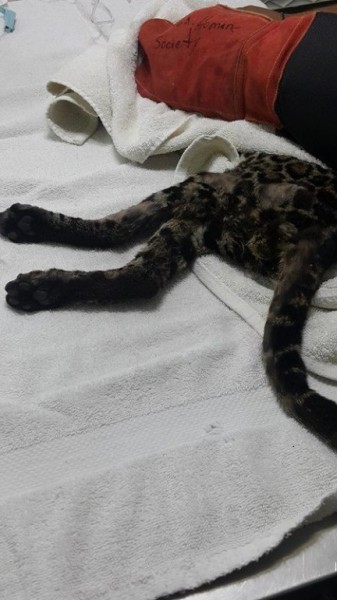 Saga expressed their thoughts on the matter via their Facebook page. "Saga Humane is much more than just a source of compassion for the dogs and cats of Ambergris Caye. Our resources are available for any animal in need of care and our doors are always open for an emergency. As it has done so many times in the past to serve the community, we made arrangements to fly the patient to the mainland, where he will be safe in his native environment." In this case Tropic Air generously donated the flight.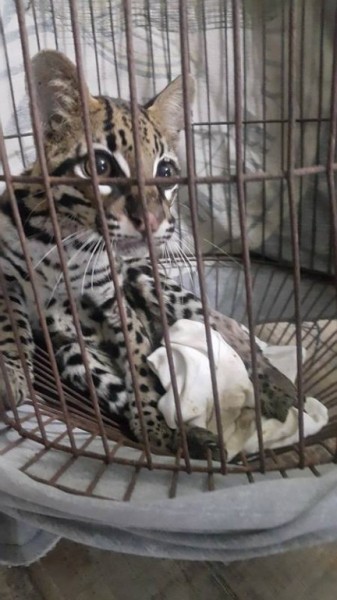 Saga reiterates that wild animals are not house pets and need to remain in the wild. Keeping an ocelot in captivity is not only illegal, but it is also dangerous to the health and well-being of its caretaker and family.
According to the Belize Wildlife Protection Act Revised Edition 2000, it is against the laws of Belize to keep any wild animal as a pet. "Wildlife" means all undomesticated mammals, birds and reptiles and all parts, eggs and nests of any of these wildlife forms. Possession of any wildlife without a permit from the Belize Forest Department can result in imprisonment or fines equivalent to the offense committed.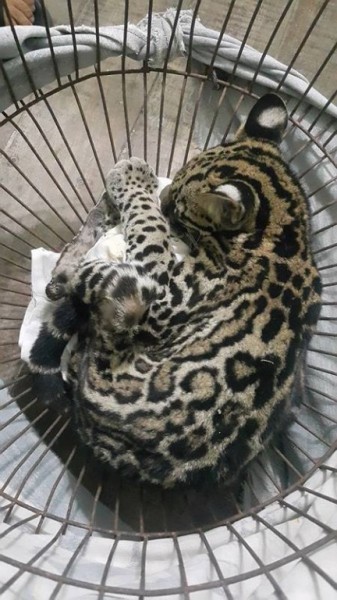 According to Durand, wild animals can also harbor certain diseases that can be transmitted to humans and vice versa. "The list of possible diseases transmitted by wild animals is long and the consequences depend on the species. A lot of knowledge and expensive care is required to keep wildlife healthy and avoid disease transmission. People often do not realize the risks and long term consequences of everyday actions or habits such as keeping wildlife as pets until it is brought to their attention," said Durand.
Saga Humane wishes to thank everyone involved in saving the life of this beautiful cat. If you see an animal in distress or not being cared for, please contact Saga at 226-3266. To report a person keeping a wild animal as a pet, please contact the Belize Forest Department at 822-1524/ 822-2079 or email [email protected].
Follow The San Pedro Sun News on Twitter, become a fan on Facebook. Stay updated via RSS