Saga Humane Society's new licensed veterinarian is Dr. Donald Tummons
Saturday, January 21st, 2017
After nearly a year of permit filings, rigorous testing, and interviews, the Veterinary Surgeons Board of Belize has granted Dr. Donald Tummons all rights and privileges to serve as a licensed Veterinarian in Belize. Dr. Tummons will not only practice as a volunteer at Saga Humane Society, but he will be offering his services to all Humane Societies throughout the entire country. With over 43 years of experience, this renewable one-year license will allow him to give much needed veterinary care to animals of all shapes, breeds, and sizes.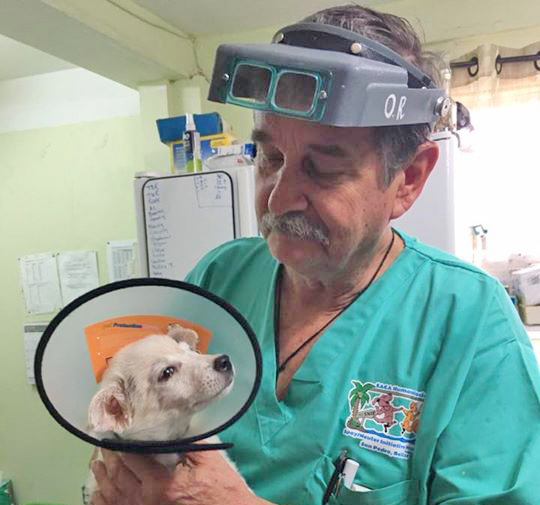 Dr. Tummons expressed his gratitude to everyone who was involved in securing the license. "Becoming the first non-resident Belizean veterinarian took a lot of time, patience and the efforts of many people. I am indebted to the board and staff of Saga, Dr. Gongora and Dr. DePaz from the Belize Veterinary Surgeons Board, officials from the Ministries of Labor and Immigration, Dr. Orlando Baptist, Ingrid Lima and the many others who helped in any way," said Tummons.
Dr. Tummons was introduced to the Saga team during his first visit to Ambergris Caye in 2011, where he was inspired to bring his skill, care, and compassion to the animals on the island. "I am very happy for Saga that we can operate more effectively to help the animals of Belize. We now have the opportunity to be available to assist at a much higher level of service. I look forward to working closely with other humane societies and animal care groups," said Tummons.
That cooperative work was put into place on Friday, January 13th when Dr. Tummons was called to Belize Hopkins Humane Society (BHHS) after a small puppy had its foot cut off by an unidentified group of men. Although Dr. Tummons was unable save the puppy's paw in time, he performed a grueling amputation surgery that saved the small dog's life. Dr. Tummons has been a key player in furthering the Saga's mission of preventing cruelty and promoting kindness. After being Director of International Medicine within Saga's Board of Directors in 2015, he has assisted Saga to control overpopulation by performing spay and neuter surgeries. While on island, Dr. Tummons has also collaborated with Dr. Baptist and Lima. "I hope to not entirely change, but add to and accelerate existing operations at Saga, especially with the spay and neuter program and humane education program. I look forward to working with more of the community to reduce the number of strays and homeless animals. Adoptions are also critical to the well-being of animals and I will participate in the implementation of more effective protocols to facilitate finding more homes for the homeless dogs and cats".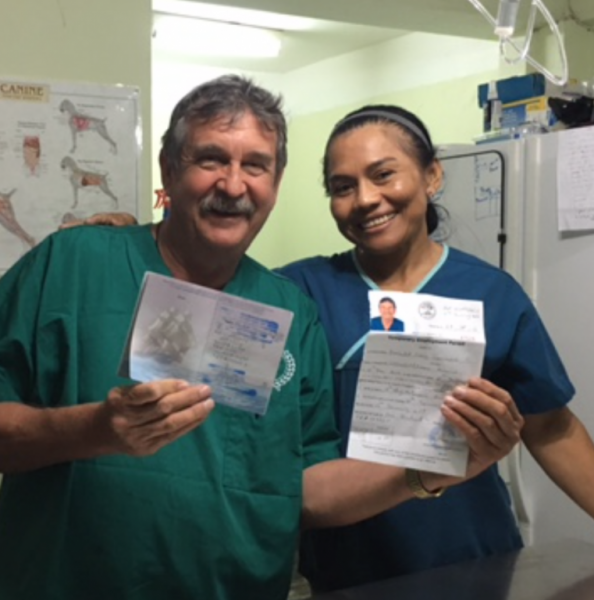 Dr. Tummons is a celebrated veterinarian who owns and practiced at Duck Hollow Animal Hospital in Uniontown, Pennsylvania, U.S.A. His love of animals is seen throughout his dedication to his patients, and his free assistance to local rescues and shelters in his hometown. Dr. Tummons is the proud animal father to four cats and three dogs, including 'Don Diego de la Vega', a black pug with one eye that he rescued from Saga Humane Society and brought back to Pennsylvania in 2016.
Saga was established in 1999 with a mission to replace animal cruelty with kindness. Their goals are to provide medical care and shelter to animals in need, as well as funding veterinary care to low income families. Saga operates the only shelter on Ambergris Caye, Fort Dog, and cares for those animals through the generous donations of Saga supporters. To learn more information on how you can adopt, or if you wish to donate to Saga Humane Society, you can call at 226-3266, or visit their website at www.sagahumanesociety.org. The clinic and shelter are open to the public Tuesday through Friday, 9AM to 5PM and on Saturdays from 9AM to 12PM. Emergency care is available 24-hours, seven days a week at 610-0932.
Follow The San Pedro Sun News on Twitter, become a fan on Facebook. Stay updated via RSS