Anke Doehm's petition to leave the country withdrawn; no new court date announced
Saturday, November 17th, 2018
The legal case against Anke Doehm has gone quiet after her last appearance in court on September 13th, when she sought permission from the Supreme Court to travel to the United States of America (USA) for health reasons. Doehm was to return to court later that month to find out if her application for traveling was approved. However, before the court could make a decision the petition was allegedly withdrawn. The San Pedro Sun contacted the Supreme Court in Belize City, who indicated that there is no further information on when she is to return to court. Doehm faces a charge of 'Cruelty to a Child,' in connection with the death of her 13-year-old adopted daughter, Faye Lin Cannon, who was found dead in her bedroom on July 3, 2017.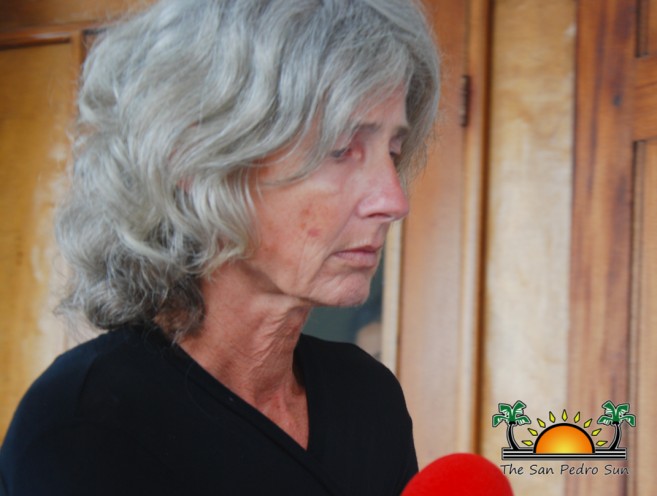 Anke and her deceased husband, David Doehm lived at a condominium complex north of San Pedro Town with Faye Lin and her three sisters, Zoe, Mia, and Siri. When Faye was found dead, the Doehms quickly became the prime suspects, despite them alleging that the child died from natural causes. However, following a post-mortem, it revealed that she had been physically and sexually abused. Her cause of death was determined to be because of internal haemorrhaging due to compression to the chest.
The couple was arrested jointly on July 12, 2017, after a thorough investigation by police. The Doehms kept saying that their daughter was mentally compromised and would often hit herself against the wall. But many residents on the island and even teachers, who taught Faye disputed those arguments, stating that Faye was a very intelligent student, and a healthy young girl.
After the Doehms were charged, they spent a few days at the Belize Central Prison but managed to get out on $10,000 bail each. For their safety and for them to continue the court trial, they relocated to Belize City. In the meantime, the children's legal adopted father, David Cannon, had been in the country since Faye's death. He stayed in Belize for months, fighting for the custody of his three remaining adopted daughters, as they were kept under the watch of the Belize Human Services Department.
A couple months later, the case against the Doehms was heating up with the news that forensic information was to be provided to the prosecution regarding the sexual abuse. Unexpectedly, as this evidence was to be revealed, David Dohem was found dead on October 5, 2017, inside a hotel room in Belize City. Police ruled his death as a suicide and the scientific evidence was never revealed to the public.
As Anke was left alone to face the charge, Cannon continued to fight for the custody of his daughters and finally on December 20, 2017, the family court in Belize City granted him complete custody of Zoe, Mia, and Siri. Cannon and his daughters then departed for the USA.
Follow The San Pedro Sun News on Twitter, become a fan on Facebook. Stay updated via RSS