"Hands across the Sand" brings dozens out to Central Park
Tuesday, May 23rd, 2017
The coastal community of San Pedro is more motivated than ever to protect its waters by raising awareness on environmental policies and practices. On Saturday, May 20th, more than 20 environmental advocates participated in the annual "Hands Across the Sand". Held at the Central Park, the gathering held hands along the beach in symbolic opposition of offshore exploration and drilling, as well as seismic surveying. Over 80 countries around the world partook in the event, and Oceana in Belize organized this symbolic activity in San Pedro, and across 13 other municipalities. This year, the campaign was also aimed at spreading the message of "saying 'NO' to filthy fuels and saying 'YES' to clean energy."

According to Jacinta Gomez, Outreach Program Director for Oceana in Belize, the event demonstrates Belizean's strong stance against offshore exploration and drilling. "When we join hands, it is symbolic for drawing a line to say NO to offshore drilling. With us participating for three years, we hope that initiatives like this will get the attention from relevant policy makers in Government so they can see that Belizeans are not giving up on this issue. This is something we the people have said and will continue to say NO to. It's really about how they can be accountable for their actions," said Gomez.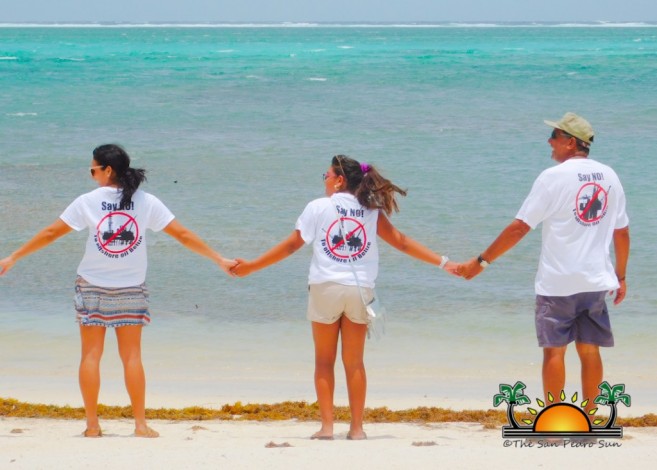 She further mentioned that during the Senate meeting on Friday, May 19th, Senator Godwin Hulse stated publicly that the Government will stick to its commitment to not drill offshore. "When Hulse said that, I began to think deeper. If that statement was true, why not put it in writing and make it into legislation so the people of Belize can hold them accountable? It's all about good governance, and that entails accountability and transparency," said Gomez.

She also explained that the impact of an oil spill can be catastrophic, especially since Belize is heavily dependent on tourism. Gomez states that one in every four Belizeans relies directly on tourism, and if there were to be an oil spill, the impact to our country and marine environment would be devastating.
Aside from offshore drilling, the event also highlighted the negative effects of seismic testing. In October 2016, the Government permitted seismic air gun blasting to be done. With great community effort, many environmentalists voiced their concerns to Minister of Tourism and Civil Aviation, Hon. Manuel Heredia Jr., and he lobbied the Prime Minister Right Honorable Dean Barrow to stop the seismic testing.

Gomez said that seismic surveying does constitute as offshore exploration. "Seismic surveying blasts sounds to find possible oil mounds, and poses major risks to our livelihoods. Mammals use sound to communicate, so seismic test contributes to noise pollution. The fact that the Government allowed this to happen without any prior announcement or consultation, is wrong. It's very important for the public to become aware of all delicate issues," said Gomez.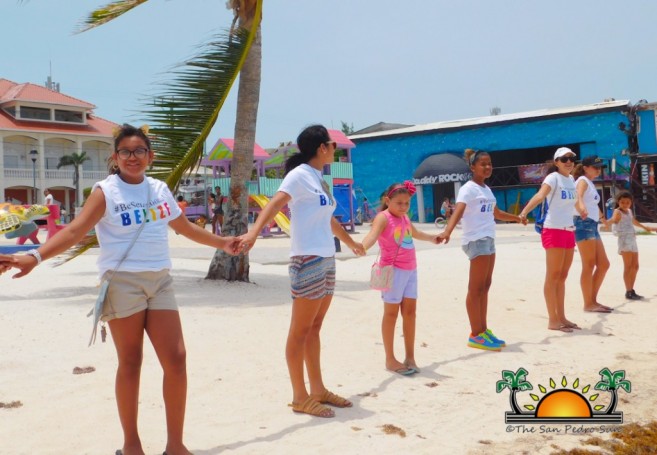 One participant, Sherrylee Lopez, told The San Pedro Sun that it is essential that children are aware of environmental issues relevant to their community. "The children are the future of tomorrow, so we need to emphasize education. Everything that teachers teach my son, I try to re-teach what was taught so it can retain. He was learning about water, land, and oil pollution, so I saw this as an opportunity to come out," said Lopez.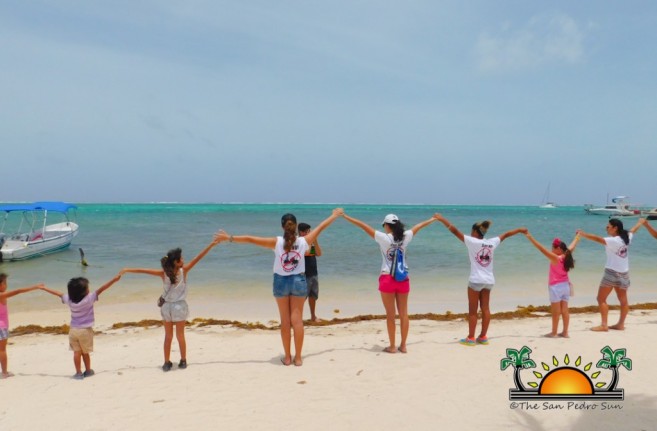 Participants are to be commended, as they clearly sent a message to the Government once again about their stance against offshore oil drilling. Oceana in Belize thanks all those who took the time to participate in the event and hopes that Hands Across the Sand will serve as one of the main awareness campaigns against offshore oil explorations in Belize.
Follow The San Pedro Sun News on Twitter, become a fan on Facebook. Stay updated via RSS