Delson Paguada remanded for shooting incident at Cangrejo Caye
Wednesday, October 13th, 2021
Police have arrested, charged, and remanded 22-year-old Delson Paguada, in connection with the October 2nd shooting at Cangrejo Caye that resulted in the death of Jerry Espat. Paguada had been sought by police following the incident. Days later, he reportedly handed himself into authorities accompanied by an attorney, and on Tuesday, October 12th, Paguada was arraigned at the San Pedro Magistrate Court for the charges of Attempted Murder, Grievous Harm, Use of Deadly Means of Harm, and Wounding.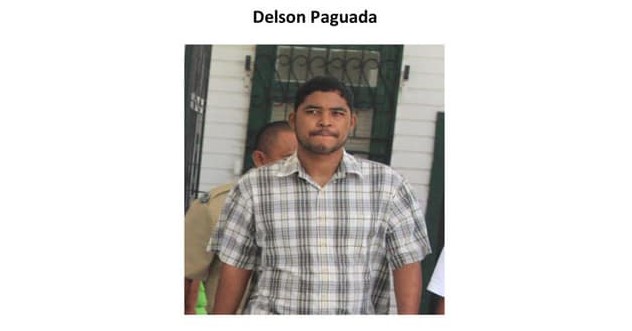 Paguada joins others involved in the same incident,  Gabriel Villafranco, who was charged for Murder, Attempted Murder, Use of Deadly Means of Harm, and Wounding, and brothers Pedro and Sergio Tun charged for (2) counts of Attempted Murder, (2) counts of Use of Deadly Means of Harm, and (1) count of Grievous Harm. They will remain at the Kolbe Foundation-Belize Central Prison,  until their next court appearance on January 5, 2022.
According to an official report from police, Jerry, 25, and his three brothers 27-year-old Luis Enrique Santoya, 23-year-old Ricardo Anthony Espat, and 26-year-old Kirian Espat from the San Pedrito area of San Pedro Town were out fishing on Saturday, October 2nd when they were approached by two boats carrying a group of men. Santoya reported that one of the men from the approaching boats pulled out a firearm and fired several shots towards him and Ricardo. As a result, Santoya received a gunshot wound to his body, below his left knee. The armed attacked continued, resulting in the death of Jerry, who according to Kirian was shot several times in the back. Kirian was grazed to his right cheek and abdomen. Santoya and Ricardo managed to get away from the area in their boat, pursued by the gunmen. When they got back to the island, they were treated at the Dr. Otto Rodriguez San Pedro Polyclinic II. Santoya was airlifted to Belize City for further medical attention. A search began for Jerry, but his lifeless body was not found until the following day.
This shooting incident marks the first death of the year on the island in an armed attack.
Delson Paguada's run-ins with the law
Paguada is not a stranger to police, and has allegedly been involved in the drug turf war on the island blamed for a spike in crime some years ago, particularly in 2018. In January of that same year, Paguada, along with a 45-year-old man and a minor were arrested for the deadly shooting of Jimell Paul Jex and the wounding of his cousin Dion Neal. Paguada and the other adult were formally arraigned at the Magistrate Court in Belize City for the charge of Murder. Both denied the accusation. The minor was sent to the Wagner's Youth Facility, while both adults were sent to the Belize Central Prison until their next court date on April 27, 2018.
Paguada continued to claim his innocence, and in June 2019, Chief Magistrate Sharon Frazer asked both accused to provide the court with their alibi statements and names of their witnesses in writing within the week. Paguada reportedly intended to call six persons to testify in his favor, and some time after, was reportedly released and was back on the island.
Paguada has also been attacked in the past. The various violent events are said to have intensified after the murder of Jason Tillet in October 2016 at the entrance of San Mateo. Days later, Paguada's dad was murdered in the same location. It was believed that his father's homicide was a retaliation to Tillet's murder. About six months after, in March of 2017, Paguada was almost killed during a shooting incident. According to reports, Paguada was attacked by one Leroy Goff, who shot him in the right armpit. Goff made attempts to escape but was allegedly shot and subdued by Paguada's neighbors until San Pedro Police arrived.
Later in May of that same year, and unknown assailant let go a barrage of bullets at Paguada's residence. Paguada's mother was injured in the attempt, but her injuries were not fatal. Police could not find out who the shooter was.
In September, a grenade was thrown on Paguada's residence yard damaging the staircase of the house. The explosion did not injure anyone but left a large hole in the ground beneath the steps of the residence. Police detained three persons in their initial investigation, but no one was charged with the offense.
In the meantime, Paguada has remained under police radar, believed to be in a dispute with potential gang groups.
Follow The San Pedro Sun News on Twitter, become a fan on Facebook. Stay updated via RSS