San Pedro Pirates fall short against Port Layola in home game
Tuesday, February 21st, 2023
After starting the Premier League of Belize (PLB) Closing Season with three wins and one draw, the San Pedro Pirates experience their first defeat against Port Layola on Saturday, February 18th, at the Ambergris Stadium. The island team could not even overcome the 1-0 lead which Port Layola defended until the end of the game.
Scores of islanders supporting their team attended the home game. Many of the San Pedro fans were confident of another victory by the island boys. However, the Belize City team of Port Layola was no easy feat, and during the first half of the game, the Pirates could not net a goal. Port Layola was also unable to open the score, even though they made close attempts to take the lead in the first 45+ minutes of the match.
As the ball rolled in the match's second half, Pirates started dominating the ball game. But their attempts did not break Port Layola's barrier for a goal. As they continued to pressure, Port Layola's Michael Palacio sneaked through San Pedro's defence in the 67th minute and scored its only goal. The island team tried as best as possible, but by the time the game ended, the score favoured Port Layola, 1-0. This result was expected to see Port Layola taking the top of the PLB standings, a position previously held by the San Pedro Pirates for the past three weeks.
However, the PLB sanctioned Port Layola after they were accused of using an illegal player in a previous game against Verdes. That game took place in the third week of the tournament on January 29th in San Ignacio Town. Port Layola beat Verdes 2-1. Following the investigation, PLB said Verdes won the protest filed and that said game by default. Verdes was awarded three points in that match and three goals. This incident led San Pedro to once again climb to the top of the PLB standings.
In the meantime, the San Pedro Pirates are preparing to host Benque Viejo United on Saturday, February 25th. The game starts at 7 PM at the Ambergris Stadium.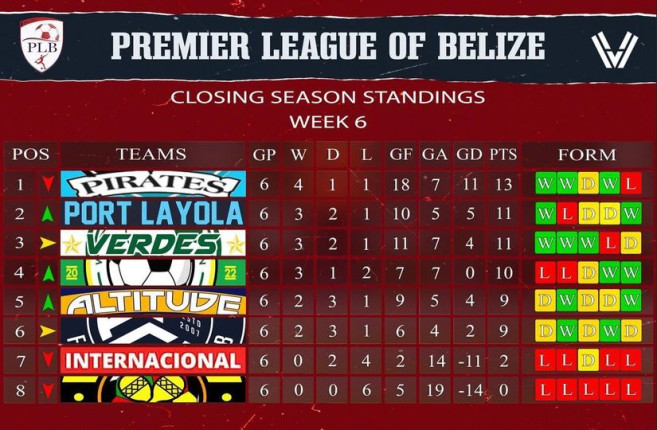 Other games over the weekend in the PLB Closing Season saw the current champion Altitude nailing the International Football Club, former Bandits, 3-0. Progresso FC and Verdes tied 2-2, and Benque Viejo United defeated Wagiya SC 2-1.
Follow The San Pedro Sun News on Twitter, become a fan on Facebook. Stay updated via RSS