San Pedro Pirates male and female teams play home games; girls net first win
Monday, March 21st, 2022
The San Pedro Pirates female and male football teams played at the Ambergris Stadium on Saturday, March 19th. The girls played first, defeating team Verdes Rebels 1-0. The San Pedro Pirates male team was not so fortunate, and after an intense match against team Wagiya, they had to settle with a draw 1-1.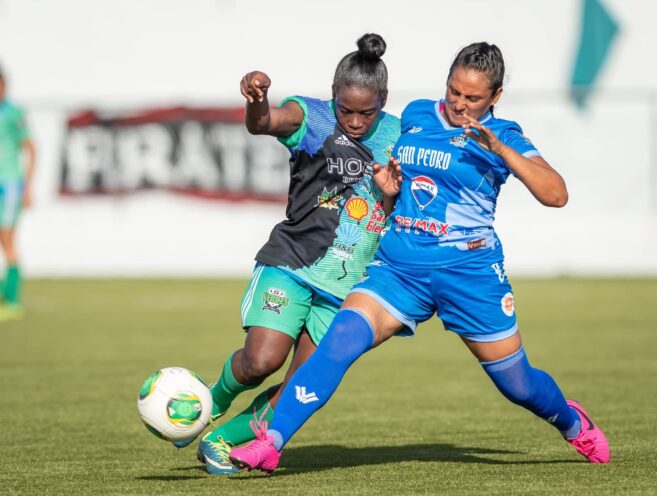 The teams are competing in two separate tournaments. The girls have started the new season of the National Amateur Women's League (NAWL), while the male team is currently in the closing season of the Football Federation of Belize's (FFB) Top League.
The game on Saturday featuring both island teams drew plenty of support, and the fans came out to cheer them on. The first match in the NAWL saw the island ladies taking on Verdes from the Cayo District. The game was intense, but San Pedro was compelled to start the season on the right foot. At minute 36, before the end of the first half, San Pedro's Olivia Dacosta scored the match's only goal. The second half of the game was another intense encounter but did not produce more scores, and San Pedro secured their first win in the new female tournament.
About three hours later, the senior male team was rolling the ball on the pitch as they hosted Dangriga Town's team Wagiya. The first half saw Wagiya opening the score and held to this advantage over San Pedro Pirates until the end of the first 45 minutes. In the second half of the game, the home team upped their game and tied the match. The remaining game saw more defensive tactics from both teams; hence, the final draw 1-1.
The NAWL championship continues this weekend, and San Pedro will travel to Belmopan City to play against Jewel Fury at the Isidoro Beaton Stadium. The male island team will have a break this weekend as Belize's Male National Team will host the national team of Cuba. The international friendly game will take place on Sunday, March 27th at4PM inside the FFB Stadium in the capital city of Belmopan.
Follow The San Pedro Sun News on Twitter, become a fan on Facebook. Stay updated via RSS