Initial SPTC audit reveals 'disturbing results'; street rehabilitation plans announced
Thursday, March 25th, 2021
Mayor Gualberto' Wally' Nuñez stated on Wednesday, March 24th, that an audit of the San Pedro Town Council (SPTC) has started. Based on the initial findings, changes must be made to continue operating efficiently. The situation was described as 'tough' as some of the investigation results so far are 'very disturbing.' On the other hand, SPTC has been busy talking with the Ministry of Works about rehabilitating the streets at the different subdivisions on the island.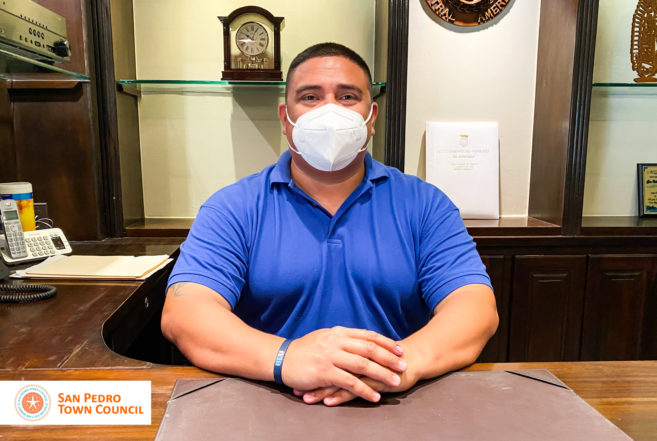 The audit's complete results will take a couple of months, and Mayor Nuñez stated that to stay afloat to meet a $30,000 weekly payroll, changes are necessary. The mayor added that the town council has accounts at different banks, all in overdraft. "That has crippled the situation at the town council, and because of that, we had to make some changes," said Nuñez. One of the discrepancies noticed is that some employees' duties do not make sense, such as some foremen have drivers. He also reported that staff who retired or left their posts before the March 3rd municipal election were overpaid and that salaries increased for some of the employees currently working there. "In the middle of a pandemic, we have people increasing their salaries, while our people working out there on the streets are getting three quarter or half of their pay. That is unacceptable," said Nuñez. The mayor said that some of the staff currently working have no type of resumes or vitae curriculums to show their job descriptions. He added that these issues would be rectified.
Street rehabilitation to start soon
Nuñez indicated that his administration has been in touch with the Ministry of Works regarding street renovations on the island. He said that soon islanders would see works beginning on some of the most deplorable streets in the many subdivisions outside of downtown. Another infrastructural upgrade for the island will be the paving/cementing of some roads. According to Nuñez, one of the main priorities will be Marina Drive, a significant road through where all goods are transported for distribution in San Pedro Town.
The mayor reiterated that his team would continue working hard, and while the audit continues, they will focus on the needs of the island community. He again pledged transparency and committed to informing the public of the probe's result when completed. Nuñez also committed to providing a financial report of the town council soon.
Follow The San Pedro Sun News on Twitter, become a fan on Facebook. Stay updated via RSS